Yes, everyone has heard the captivating and hypnotic "Day N Nite" from the rising Cleveland rapper. Yes, people cannot shut up about how good his debut mixtape
A Kid Named Cudi
was. And yes, a lot of people thought "I Poke Her Face" was really, really funny (myself included).
But obviously Kid Cudi's talent has not been proven on a mainstream scale. However, if the Cudder can succeed, he will be the first of many bullets fired from the new school of rap. And the barrel is fully loaded.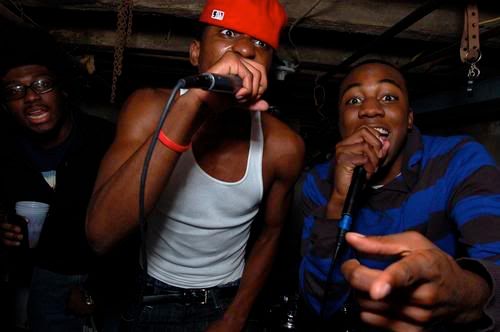 Many new school and electro-hop artists may be the redemption of the now uninspired, boring genre. These rappers include Wale, Chiddy Bang, and (of course) Kid Cudi. The refreshing qualities of songs from these rappers are far, far away from the auto-tuned madness of today's Billboard's Top 40 chart.
Yet, oddly enough, they are somewhat more accessible. This is because these new school artists tend to take samples from different bands and artists from genres that include indie, pop, and alternative. Chiddy Bang tends to sample artists that become internet sensations such as Passion Pit and MGMT as well as much more recognized artists and bands like Radiohead and Tom Waits. Wale has a powerful sense of style with his tracks and is always fascinating to hear his music. The D.C.-based rapper has also dabbled in some more internet-friendly artists including (what is arguably his biggest hit so far) "W.A.L.E.D.A.N.C.E" where he raps over Justice's groundbreaking hit.
Kid Cudi is leading the charge of the new school genre backed by artists and producers like Common, Kanye West, Will.i.am, Travis Barker, Ratatat, and Just Blaze. The Cleveland breakout artist will be dropping his studio album,
Man On The Moon
, on August 25th.
Kid Cudi - "Heaven At Nite" [on The Hype Machine]
Kid Cudi - "Dat New New" [on The Hype Machine]
Chiddy Bang - "Kids (Feat. MGMT)" [on The Hype Machine]
Chiddy Bang - "Because (ft. Radiohead)" [on The Hype Machine]
Wale - "W.A.L.E.D.A.N.C.E. ft. Justice" [on The Hype Machine]
Wale - "Chillin' (Ft. Lady Gaga)" [on The Hype Machine]